Best Place to Dance

If dancers voted with their feet, then Hollywood Ballroom received 625 votes the week of July 21, 2021 as "Best Place to Dance" in the Maryland/DC area
The Ballroom, which had to restrict activities during the height of the Covid crisis, opened its doors again as soon as it was allowed to do so.  And the participation has been very encouraging, according to Ballroom managers who were thrilled to see 625 dancers in just one week.  People are ready to enjoy themselves again, to be out with others, to have fun, to DANCE!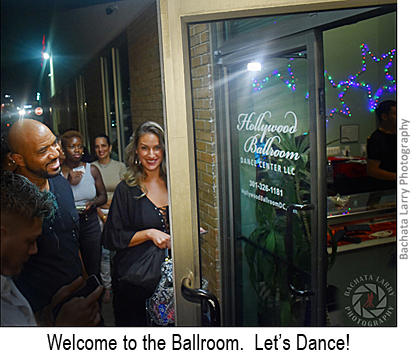 The Ballroom features an incredibly large and spacious solid-wood floating maple dance floor. It has a well-stocked bar that is open during dances.
Dances are held every Sunday evening, Wenesday evening, Thursday afternoons, Friday evening, and select Saturday evenings.  Music includes traditional ballroom, West Coast swing, country, and Latin mixes.
In addition to dances, Hollywood Ballroom has group and private lessons.  It features a group "Learn to Dance" program that is aimed at getting people with very little dance experience out on the dance floor.
Hollywood Ballroom  is host to dances put on by Dance Jam Productions and by Mr. Mambo's Salsa/Bachata Socials.
Hollywood Ballroom has been hosting dances since the 1991 and is an important part of the DMV dancing community. Hollywood ballroom is located right off U.S. Rt 29 in suburban Silver Spring, and it has always been a favorite of dancers from Montgomery County, Howard County, Prince George's County, Columbia, Baltimore  and DC.
All dances and lessons can be found on the Ballroom's Calendar of events.