NEW VISITORS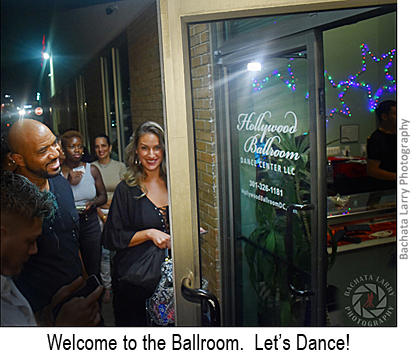 Quick Links:
• Maps and Directions
• Our Address
• Send Us a Message
• About Us 
• Join Our Mailing List
• Safety Features
• Follow Us on Facebook
• Calendar of
Dances & Lessons
An Overview
Hollywood Ballroom Dance Center, with its spacious 6,400 square foot floating hardwood dance floor, is one of the largest climate-controlled ballrooms in the Baltimore-Washington area. We are located in suburban Silver Spring.
Types of music and dances
Hollywood Ballroom has traditionally held Ballroom Dances and taught Ballroom Dancing lessons. We now also host organizations specializing in other types of dance/exercise.
Ballroom:  Dances and lessons for all styles and levels, offered by Hollywood Ballroom
Country Western: Dances with lessons coming soon!
West Coast Swing: Dances with lessons, offered by Dance Jam Productions
Salsa/Bachata/Latin: Dances with lessons and workshops, offered by "Mr. Mambo"
Exercise: offered by Jazzercize
What's happening? What's new?
The quickest way to find out all that's going on at the Ballroom? Check out our Calendar.  It lists all dances, lessons and special events.
Get out there and dance!
The quickest way to learn to dance?
Take the lesson(s) usually offered before the start every dance.
Sign up for group lessons in the evening.
Take private lessons from one of our top-notch instructors.
Meet new people!
Oh, so many ways to meet the friendly dancers at Hollywood Ballroom:
Meet new people every week at the lessons before the dance.
Get to know your classmate during the progressive evening group classes.
Join other singles at the "singles section" during dances.
Greet new partners during mixer dances. There's usually a few of these at each Ballroom dance.
Have a great time!
Our bar is open during most dances. Beer, wine, spirits and light snacks are available.
Dress the part
Ballroom Dances:

Gentlemen should wear dress shirts and long pants. Blazers, jackets, and ties are welcome, but not required.  Ladies' attire is casually dressy. Tee-shirts, jeans, and shorts should not be worn.

West Coast Swing and Country/Line Dances:

More casual attire is appropriate. Jeans are fine.

Salsa, Bachata and Latin Dances:

"Dress to impress" is in order.

Helpful:

In general, dance shoes with suede soles or scored leather soles are prefered. They move easily on hardwood surfaces and make it easier to perform all of your great moves!

Please Don't:

Wear sharp heels or stilettos as they damage the dance floor.
Wear jewelry that could come lose; it becomes a tripping hazard on the dance floor.
Wear bulky or sharp rings and overly long, dangling scarves and necklaces. Your partner will appreciate it.

And Of Course:

For the enjoyment of all customers, management reserves the right to enforce this dress policy
Ballroom Dance Customs
The dancers at Hollywood Ballroom Dance Center observe the same social graces as ballroom dancers anywhere:
Graciously accept invitations to dance. If you must decline, do so politely and quickly so that the person has time to find another partner.
Thank your partner when the dance ends.
Be aware of your surroundings and proximity to other dancers.
If the dance floor is crowded, please curb excessive speed and grand gestures.
If your partner muffs a step, please consider it an opportunity to improve your skill at leading, following and interacting with your partner's movements.
Avoid congregating near the entrance to the dance floor so that everyone can move about freely.
When applicable, follow the rules of the "line of dance." (see below)
Hollywood Ballroom Dance Center Traditions
Ladies are welcome—and encouraged—to ask gentlemen to dance.
Be open-minded. If you decline a dance because you are a beginner, please reconsider. Dancing with a more experienced partner is one of the best ways to learn. Ask for your partner's patience; he or she will gladly oblige.
If you make sure that everyone around you is having a good time, you'll have a good time too.
Line of Dance – Rules of the road to avoid traffic snarls
The "line of dance" is the direction in which dancers move around the dance floor. To avoid collisions, all dancers move in the same general direction—counterclockwise, like the Outer Loop of the Beltway.
Slower-moving dancers are asked to dance closer to the center part of the dance floor. Confused? Watch the other dancers on the floor and you'll pick it up quickly.
Please note: Line of dance rules apply only to traveling dances. When dancing traveling dances, couples move or travel around the dance floor. Waltz, Foxtrot and American Tango are examples of travelling dances. The other kind of dance is known as the spot dance. Couples stay more or less in one place while dancing spot dances. Examples of spot dances are Swing, Rumba, Cha-Cha and Salsa.
Safety Features
On the ground: The ample, free parking lot is well lit.
In the air: Ultraviolet Germicidal Irradiation (UV GI) lamps disinfect the air in the Ballroom.  Additionally, the air filtration system has MERV-13 filters to help give our customers the cleanest air quality.
On the tables: During Ballroom dances, bottles of hand sanitizers are placed on tables in the Ballroom for dancers to use.
In general:  At present (July 2021), masks are not required. However it's a good idea to have a mask with you in case your dance partner requests that you wear one.  You must have proof of full vaccination to be admitted to dances.
FAQs
Do you have questions? We've compiled answers to our dancers' most frequently asked questions:
Q. I don't know anything about ballroom dancing yet, and feel intimidated about attending the social dance – any suggestions?
A. First of all, please remember that everyone has to start somewhere. If you are interested in learning to dance, take that first step. Attend a Friday or Sunday night social dance, take the lesson, watch the dancing, join the mixers and line dances, practice your lesson steps.
Q. What if no one asks me to dance?
A.This is unlikely to happen – especially on a Friday evening when everyone is in a TGIF mood, or Sunday when the weekend draws to a close. Gentlemen will be pleasantly surprised to know that ladies are not shy about inviting them to dance. But, if you do sit out a dance, enjoy the break and put the time to good use. Listen to the music as you watch the dancers' feet; listen as the DJ announces the recommended dance and then observe how the dance is done; observe dance postures; and notice how the dancers navigate the line of dance.
Q. How can I increase my chances of being asked to dance?
A. You may want to try sitting in an area where there appear to be other singles, or at a table as close to the dance floor as possible. Give the impression that you are looking to dance – if you are deep in conversation with your friends, someone might assume you'd prefer to talk than dance. Catch the eye of approaching partners. Smile!
Q. Do I need a partner?
A. No – many people come to the dance by themselves or with other friends. Singles are always welcome at Hollywood Ballroom.
Q. Neither my partner nor I knows how to dance yet. Any tips for how we can dance on the first night we attend?
A. Almost every dance has a simple, basic step that is the foundation for that dance. Learning the basic step as each dance is played is a perfect way to learn to dance. You'll also find some dances are easier than others. The Latin dance Merengue is a great beginner dance. It is a one-step spot dance with direction changes and simple turns. You'll catch on quickly by watching people do the Merengue – it's as simple as walking and turning in place to the music. Other dances that are easier to learn include East Coast Swing, Sway, Rumba and Salsa. And you can always just move to the music.  Dancing is about having fun, not perfection!
"The Hollywood Ballroom Dance Center has a friendly atmosphere where anyone can feel relaxed. The music and lighting are magical. It is truly a special place."