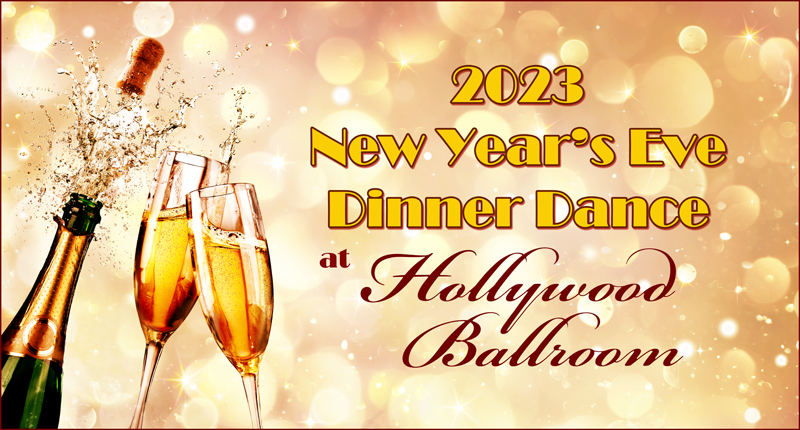 Hollywood Ballroom's New Year's Eve Dinner Dance and Celebration for 2023!
 Great Ballroom Music all night long!
• Dancing from 7 pm to 2 am
• Your favorite Ballroom songs, courtesy of our resident DJ, Gary Varano
• Fabulous dancing by all of our graceful and talented customers, dressed in their finest holiday dancing attire!
• tables for couples, singles, and arrangements to accommodate groups
 Tempting and delicious appetizers served during the dance!
• A tantalizing array of Appetizers, Sips & Bites.
 A wonderful salad to start the buffet!
• A delightful Avocado salad with mango salsa.
  Delectable and savory entrées!
• Braised Boneless Beef Short Ribs with mashed potatoes & a jus
• Oven Roasted Salmon with sweet potato hash, maple glaze
• Mushroom Farfalle with baby spinach, oven dried tomatoes, cream sauce, goat cheese, a vegetarian option
 Desserts with a flare!
• An interactive Flambé station offering a choice of
Bananas Foster,
Cherry Jubilee,
or Apples Flambé,
accompanied by vanilla ice cream.
 Exceptional caterers for this very fine meal!
• Catering by the acclaimed chefs of Cured 18th & 21st, Columbia, MD.
 An open bar all evening!
• With selected offerings of wine and spirits at our tended bar
• With red and white wine selections for dinner

 Dazzling midnight festivities!
• With plenty of "oohs and aahs!"
• With a midnight toast of champagne or sparking beverages!
• With TV coverage of the Times Square ball drop!
• With noisy and sparkly merriment and fun!
 We'll probably have a few more entertaining surprises!
• It's New Year's Eve, and it's Hollywood Ballroom's favorite event of the year!

 Celebrate the New Year at Hollywood Ballroom
2126 Industrial Parkway, Silver Spring, MD 20904

The Details:
As always, buying early is the way to save on ticket prices. Save as much as 37% by purchasing your tickets before midnight, November 30, 2023! Purchase tickets at the front desk or online.

PURCHASE TICKETS ONLINE
BIG SAVINGS BEFORE MIDNIGHT NOVEMBER 30, 2023!
Tickets will be refundable until December 4 because we understand circumstances get in the way at times.  After December 4, we'll work with customers who cannot attend to sell their tickets to other customers.
Ticket prices:
$125 Early Bird Best until midnight Monday, November 30
$145 Plan Ahead from November 28 to Monday, December 25
$175 Last Minute from December 26 to December 30
$200 If Available on December 31
A small surcharge applies to credit card sales.
Please start making plans now!  Call your friends and plan a table together.  If you have any questions we can help with, speak to us or send an email to: Info@HollywoodBallroomDC.com.