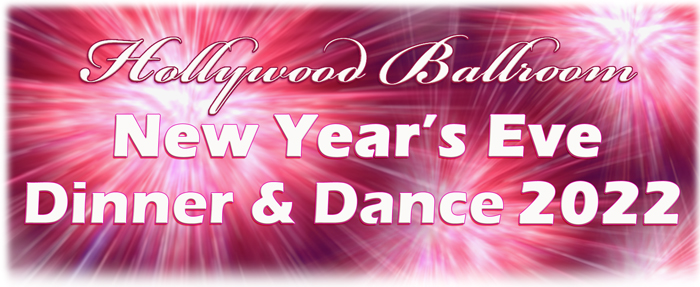 Hollywood Ballroom will ring in 2023 with music,
dancing, food, magic and sparkles!
Call office to inquire about ticket availability
301-326-1181
It will be a dressy affair, as New Year's Eves should be.
Music will be provided by Steve Ferrara, Hollywood Ballroom's Dancin' DJ.
Magician Ben Corey will entertain guests at tables and will amaze us
with a special Floor Show of his magic skills.
Doors will open at 7 pm.
Hors d'oeuvres followed by a very nice buffet meal
which will be available from 7-9 pm.
Dessert and coffee will be available after the meal.
We will host an Open Bar all evening
and serve Sparkling Wine and more at midnight.
The dancing will continue until 2 am!
There will be Singles Tables and Dance Hosts.
Buffet Dinner:
Pit Roast Beef
Pit Roast Ham
Grill Roasted Salmon
Vegetable Lasagna
Freshly Cooked Sides
Delicious Desserts
Tickets are available for sale at the Ballroom.
Online sales open through Dec 30.
Early bird tickets at $80 will be sold until December 19.
Credit card sales will have a small uplift.
After the 19th, the price will be $90 through December 30.
The price on December 31 rises to $125.
Seating arrangements will be organized according to
preferences at time of ticket purchase.
Tickets are not refundable. Proof of vaccination is required.