Lessons Before Dances
Lessons Before Social Ballroom Dances
Lessons  before dances are often, but not always, included in the price of admission to the Social Ballroom Dances. The calendar will have information about lessons offered before dances. 
THE SUNDAY NIGHT SOCIAL BALLROOM DANCE
 usually includes the following lessons in the price of admission:
• a beginner lesson
• an intermediate lesson
The beginner and intermediate lessons are usually offered concurrently before the Sunday night dance starts. You may attend either  of these lessons with your paid admission to the dance.
Should I take the beginner or the intermediate level lesson?  If you are not thoroughly familiar with the basic steps of a dance, we suggest you take the beginner level lesson.  This has nothing to do with how long you have been dancing in general. The instructor for the intermediate level lesson will assume that all students are familiar with the basic steps of the dance and will spend little time, if any, teaching the basics. If you are not familiar with the basic steps,  you probably will find yourself falling behind and not enjoying the lesson.
SOCIAL BALLROOM DANCES ON OTHER NIGHTS
or on other special occasions often include a beginner/intermediate lesson in the price of admission. Sometimes, however, a lesson is not included.  Such information will be provided in the calendar of events.
THE THURSDAY AFTERNOON TEA DANCE
does not include lessons in the admission price.
Lessons Before West Coast Swing Dances 
West Coast Swing Nights are held almost every Friday of the year (please check the calendar).
Dance Jam Productions is the official host of "West Coast Swing" night.
For latest updates, including what lessons will be offered each week, click here.
Lessons Before Country/Line Dances 
Stay tuned for upcoming information.
Lessons Before
Mr. Mambo's Salsa/Bachata Socials 
This very dynamic group has an ever growing schedule, so check back often!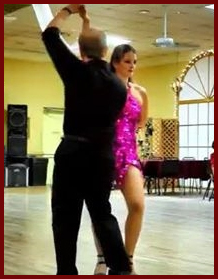 for information about lessons offered with each event, click here.
Additional Information
Singles, couples and groups  are always welcome, both to the lessons and to the dances. Partners are not required (unless otherwise noted).
Check the  CALENDAR for what lessons will be taught and which instructors will be teaching the lessons on different nights. Lessons may be held in the main ballroom or the studio.
The  INSTRUCTORS PAGE  has information about our instructors. 
For special events and International programs, please see the information posted about each event.