Current Dances and Dance Lessons at Hollywood Ballroom


Here's a summary of the current dances and dance lessons offered at Hollywood Ballroom.

Visit our Calendar to view or register for all events.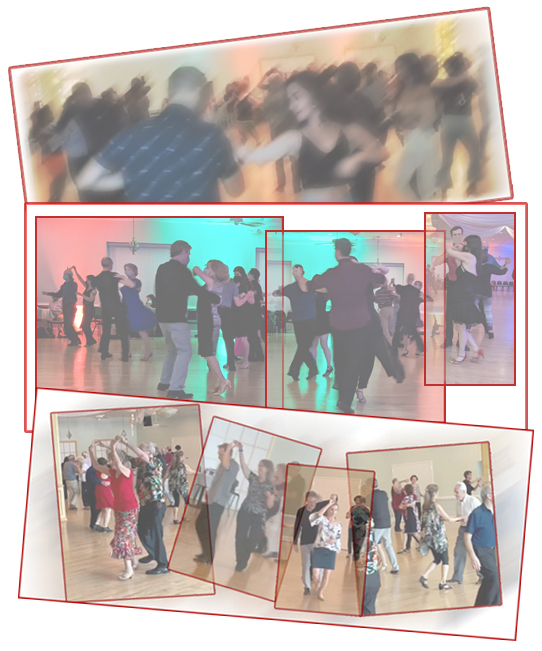 All dances are open to the public.
Come by yourself or with the partner of your choice for all dances or lessons.
EVERY SUNDAY




Sunday Evening Social Ballroom Dance
7-11 pm
 Evening includes lessons and a social dance
Open to the public
No partner needed
The bar is open for drinks and light snacks
7-8 pm –  Intermediate level dance lesson
7-8 pm – Beginner level dance lesson
See the calendar for lessons on a given Sunday.
$20 per person
EVERY THURSDAY  (Except Thanksgiving)


Tea Dance
12:30-3:30 pm
An afternoon social ballroom dance
Open to the public
No partner needed
Hosted by Paul Huston
Pre-registration required at calendar
$12 per person, includes a bottle of water
EVERY FRIDAY
West Coast Swing Social Dance
Dance Jam Productions
7:30 pm to 1:00am
An entire evening devoted to lessons and dancing for West Coast Swing
Includes lessons and social dancing.
Hosted by Dance Jam Productions, details
SELECT SATURDAYS–check the

calendar


Mr. Mambo's Salsa Social
8pm to 2:00am
Salsa, Bachata, and Latin-Mix music
Lessons followed by
Social Dancing
Must be fully vaccinated
Details and registration HERE
EVERY SUNDAY




Supervised International Practice
Hosted by Paul Huston
3:30-5 pm session:
Dance to music for Standard Ballroom/Smooth dances:
 Waltz, Tango, Viennese Waltz, Slow Foxtrot and Quickstep
5-6:30 pm session:
Dance to music for International Latin/Rhythm dances:
Cha Cha, Samba, Rumba, Paso Doble, Jive, Swing, Mambo and Bolero.
$10 pp for one session, $15 pp for both sessions
SECOND AND FOURTH WEDNESDAYS


 Ballroom Music for Practice

 7-7:30pm: Step of the Evening, a short lesson
With Stinson Evans and Emma Beard
7:30-10:30pm: Ballroom music for practice
$15pp
Coaching/assistance included
Partner recommended
GROUP LESSONS
MONDAYS
INTERNATIONAL STYLE BALLROOM LESSONS
Catherine Noblitt
Progressive month-long series
7pm Bronze/ Silver Lesson
8pm Advanced Lesson
Register with Instructor
Details on calendar
MONDAYS
BEGINNER WEST COAST SWING LESSONS
Kevin Fitzhugh
with Schroeder Noble
Progressive 10 week series
7:00-8:00pm
Basic west coast swing fundamentals & techniques
MONDAYS


INTERMEDIATE WEST COAST SWING LESSONS

8:00-9:00pm
Continuous lessons–start anytime
Details on calendar
TUESDAYS
INTERNATIONAL STYLE LESSONS
Slava Sergiev
Progressive 8 week series
2 lessons, 7pm and 8pm
All levels:
Drop-ins: OK
Details on calendar
THURSDAYS
HAND DANCE CLASS
Kevin Fitzhugh
Progressive 10 week series
7pm Beginner classes
Drop-ins lessons 1-4 only
8pm Advanced classes:
Must have experience
On-going lessons.  Start anytime.
Details on calendar
THURSDAYS
LEARN TO DANCE, ABSOLUTE BEGINNER
BALLROOM DANCE CLASSES
Paul Huston
A month-long progressive series
Two classes 7pm and 8pm.  Take one or both.
Details on calendar
THURSDAYS


LATIN DRILL CLASS
Nonci Tirado
7-8pm
2 month-long progressive series
Strenghten and beautify your Latin dancing
Details on calendar
​