CONFERENCES and BUSINESS MEETINGS
The Ballroom, with its vast floor space and plenty of free parking, is ideal for conferences and business meetings.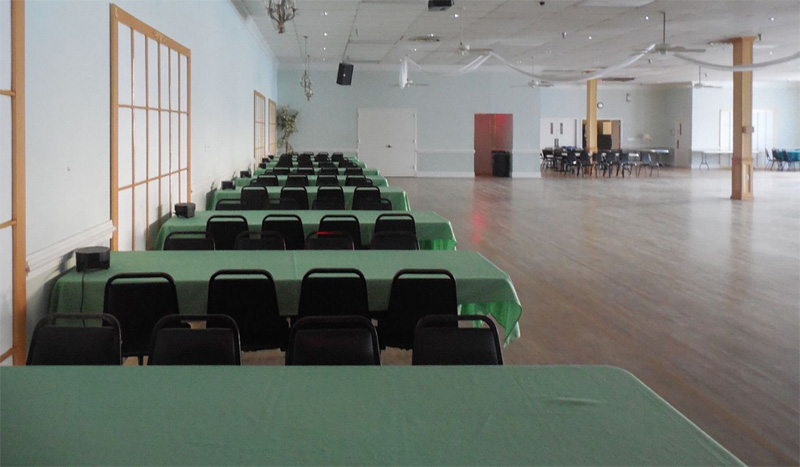 The main Ballroom has approximately 6,400 square feet of open space which can be configured in many different ways. A reception area and a separate studio are also included in most rentals.
The Ballroom is handicapped accessible.
Chairs can be arranged auditorium style for hundreds of guests.
Break-out groups can be set up with or without the use of pipes and drapes.
The studio is available during the day as an additional room with most rentals.
Light catering can be provided at an additional charge. The customer is also welcome to arrange outside catering.
Plenty of restaurants–Panera Bread, Five Guys, IHOP, Qdoba Mexican Grill, Siu's Asian Bistro, Potbelly Sandwiches, Chick Fil-A and TGI Friday's–are within easy walking distance of the Ballroom.
Also within easy walking distance is a Hilton Garden Inn.
Times the Ballroom is available for business meetings
The Ballroom is available for rent to businesses on Monday, Tuesday, Wednesday and Friday between 7am and 6 pm.
The Ballroom is available for rent on Saturdays from 4:00 pm to 1:00 am Sunday morning.

Pricing during the weekday:
• For groups up to 200 participants, rents are in the ballpark of $300 per hour with a four hour minimum (includes a complimentary hour for setup).
• Prices also vary with different accommodations needed by a group.
• Events that are catered, e.g. with hot dishes, and for groups larger than 200 participants, the hourly rate is $400 per hour, plus charges for staffing and security of $100 per hour per hundred guests.
Rental may include: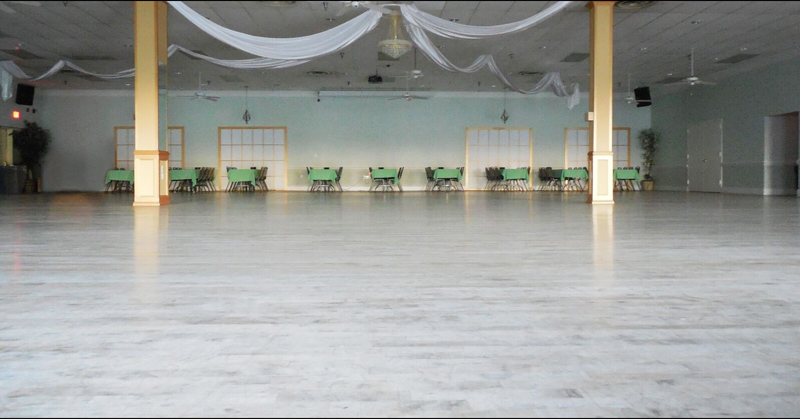 Chairs for up to 300 participants
Tables
Internet
Cable TV
One Ballroom staff member
Extra-charge Items:
Audio system
Overhead projector
Dividers (cloth drapes)
Computer (PC-based using Windows 10)
To inquire about renting the Ballroom for your business and to receive an estimate for your business meeting, please fill out the Business Rental Application Form.