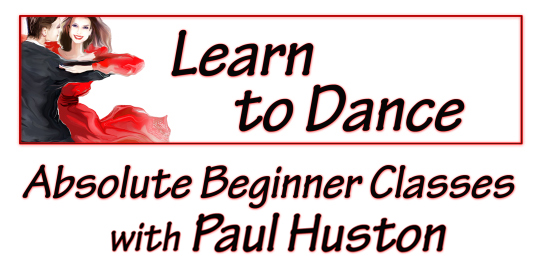 An incredible opportunity to learn to dance correctly,
with the refined technique that lets you step out on the dance floor
with confidence and great style.

• Start with the basics, then add technique.
• Learn the essence of the dance, starting with the very first step.
•  Benefit from the wealth of knowledge of 
world-class champion dancer and instructor Paul Huston.
New series starts on the first Thursday of every month.

THURSDAY EVENINGS
Absolute Beginner Classes with Paul Huston
A four week progressive learn to dance series for Ballroom Dancing.
This Learn to Dance program is designed for
absolute beginners with no ballroom dance experience as well as
ballroom dancers whose skills need tuning-up.
No long-term contracts
Budget-friendly lessons

See the calendar for specific dances taught each series.
Instructor: Paul Huston, multiple award-winning
and championship dancer

Prices, per person:
One class per night: $20 drop-in.  4 week series $70
Both classes per night: $35 drop-in.  4 week series $130
4 week series must be prepaid, cash or check only.
Partner not necessary.
Drop-In's OK.
Registration is strongly encouraged.
 Register on the calendar, the first Thursday of each month, for that month's series.
View us on Facebook